A few weeks ago, we announced our newest sector of 54 stocks in the Cybersecurity Sector.  We've had extremely positive feedback about our insight into an emerging area of the market, our dedication to our traders, and our free eBook. (if you haven't claimed your free copy, you can here.)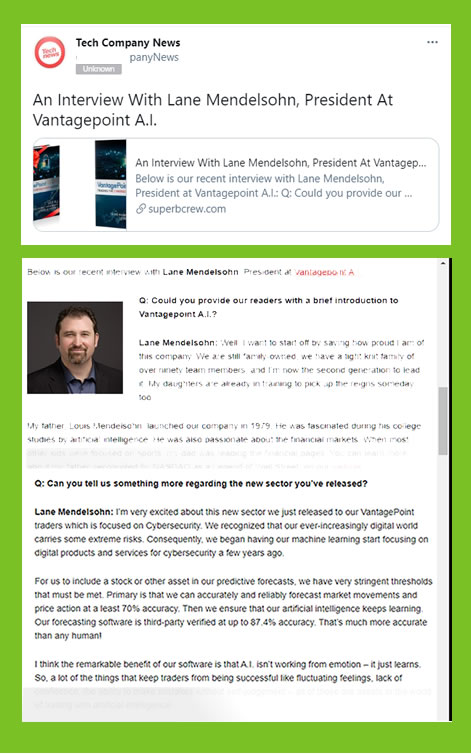 One online outlet was so interested, they contacted me about not only our Cybersecurity Sector but about VantagePoint as a whole.  
I realized you might not be very familiar with us either so I wanted to share the interview!
Here's a link to our discussion. 
We're constantly working to find ways to help our traders gain more insight from our software so that they can trade smarter, fix timing problems, spot trends, find global opportunities, and trade with confidence.
We are committed to seeing our traders succeed! 
If you're ready to learn more, join us for a free LIVE training (we don't give replays and we keep our class size manageable so we can interact with you.) 
Or we can accommodate your schedule by setting up a personal training just for you – if you'd prefer that just email me at lane.mendelsohn@vantagepointsoftware.com with your phone, your time zone, and the best times to reach out to you.
Find Out More:
Empowering traders for over 40 years, the Vantagepoint AI team is passionate about helping people find financial freedom using data-driven predictive forecasts created by artificial intelligence and patented Global Intermarket Analysis.
If you're interested in learning more about VantagePoint, don't miss out on one of our online, interactive, complimentary classes; you can sign up here. I'm looking forward to welcoming you into the Vantagepoint family soon!