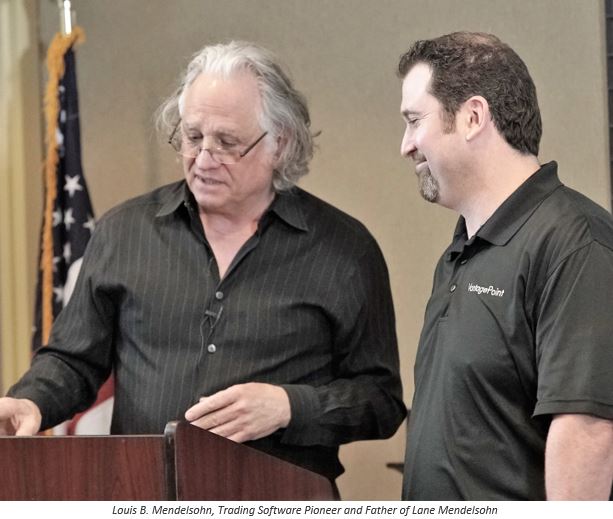 Lane Mendelsohn has been involved in the financial industry since the mid-1980s, when he joined his father, Louis Mendelsohn, a widely recognized pioneer in trading software industry, at Vantagepoint ai.
As a child, Lane accompanied his father to financial conferences and business meetings with industry participants. As a result, Lane became familiar with the financial industry and developed relationships with many top technical analysts, brokers, software developers, and money managers.
In the years that followed, Lane contributed significantly to the company's growing success as a multi-million dollar Inc. 500 company. He became involved in every aspect of the company's operations including sales, marketing, research and development, trader education, website development, recruiting, employee training, and general management. In 2009 he was recognized by the Tampa Bay Business Journal as an honoree for the Up & Comers Award in the "30 Under 30" category. This award recognizes rising professionals committed to excellence in both their work and community environments. Over the years, Lane has been featured in numerous publications including Keeping Stock, Benzinga, Entrepreneur Podcast Network, and US News & World Report. Most recently, Lane sat down with Kevin Harrington, original Shark on the hit tv show Shark Tank, and was interviewed on Fox Business to discuss the popularity of VantagePoint Software.
Focus, determination, persistence and a passion for the financial markets allows Lane to approach his responsibilities at Vantagepoint ai with enthusiasm each day. And that enthusiasm and dedication lead to his promotion to President of Vantagepoint ai in 2018. Louis Mendelsohn, Trading Software Pioneer and father of Lane Mendelsohn marked the occasion by adding a new entry to his prized dictionary that he's owned for decades. On April 6th, 2018, he added his very last entry before giving the dictionary to Lane– "Today, my son becomes President."
Lane remains committed to giving back to his community, donating time and money to various charitable organizations each year including the ongoing partnership with Shriners Hospitals for Children. Lane is not all business, though; or at least not entirely so.  He enjoys relaxing at his Wesley Chapel ranch with his wife Mandi and two daughters Rachael and Abby where they raise and breed farm animals as a hobby. Although he does this to relax, he is never one to pass up a good buy or a profitable sell. Sometimes, you can take the man out of business, but you can't take business out of this man.