Privately held businesses in Florida have been recognized by Inc. magazine and I'm happy to say Vantagepoint AI is recognized as a top business in the region!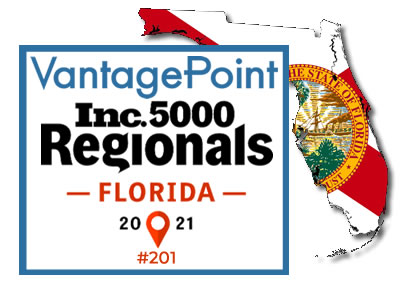 The Inc. 5000 Regional list for Florida which we appear in represents a unique look at the most successful companies within Florida's economy's most dynamic segment—independent small businesses.
According to Scott Omelianuk, the Editor-In-Chief of Inc. magazine, "the companies on this list demonstrate just how much the small-business sector impacts Florida's economy across every single industry, these businesses have posted revenue and growth rates that are beyond impressive, further proving the tenacity of their founders and CEOs."
I'm so proud of what my father created and that our company continues to be recognized as a leading, small, privately-owned business in Florida; but what makes me even more proud is hearing from our traders about how VantagePoint has changed their lives.
Find Out More:
Empowering traders for over 40 years, the Vantagepoint AI team is passionate about helping people find financial freedom using data-driven predictive forecasts created by artificial intelligence and patented Global Intermarket Analysis.
If you're interested in learning more about VantagePoint, attend one of our online, interactive, complimentary classes; you can sign up here. I'm looking forward to welcoming you into the Vantagepoint family soon!