I'm pleased to announce that Corporate Excellence, the global awards presented by Corporate Vision magazine, has selected VantagePoint as the "Best A.I.-Powered Trade Software Solution" for 2021-2022.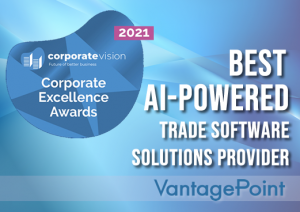 it's not just VantagePoint traders that have noted how our software can transform lives!
Our traders have the power of crunching thousands of data points in seconds with up to 87.4% accuracy on their own computers; they don't have to rely on anyone else anymore for trading ideas or advice. That's pretty life changing.
We love being recognized by international magazines and their awards; but our true marker of success is the success of our traders.
Click here to read some of the many unsolicited emails and letters from traders who put their faith in us to help them transform their trading, retire early in some cases, and generally live life on their terms.
Find Out More:
Empowering traders for over 40 years, the Vantagepoint AI team is passionate about helping people find financial freedom using data-driven predictive forecasts created by artificial intelligence and patented Global Intermarket Analysis.
If you're interested in learning more about VantagePoint, attend one of our online, interactive, complimentary classes; you can sign up here. I'm looking forward to welcoming you into the Vantagepoint family soon!