We been notified that an international jury has recognized VantagePoint as the Best A.I. Stock Forecasting Software as part of this year's A.I. Worldwide Finance Awards.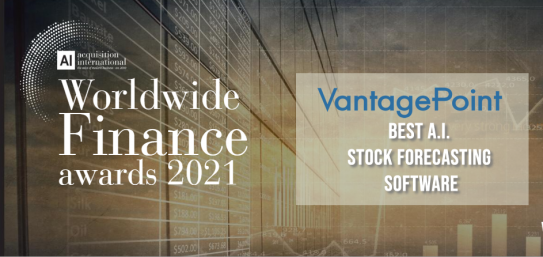 When my father, Louis Mendelsohn, founded our company over 40 years ago, he had one very important mission in mind – to level the trading field for independent traders.  When he released his concept of strategy backtesting, my dad transformed the trading world.
With the release of our software over 30 years ago, we became the first company in the world to offer traders like you the power of Artificial Intelligence for their home computers.  My father's work also gave birth to what would become the FinTech Industry.
Our patented predictive A.I.-driven forecasts as well as our patented Intermarket Analysis allow traders to see predicted market movements 1-3 days in advance.  We have been third-party verified at up to 87.4% accuracy.  In the constant competition of human vs. machine, our accuracy far surpasses the typical 27% of market gurus.
While many companies now populate the FinTech sector, VantagePoint continues to stand out for our innovation, our constant improvements as technology catches up to us, and our customer care.
If you haven't seen how A.I. can transform your trading and give you the insights, confidence, and timing you need – please – take time to join one of our free, live trainings.  These are interactive classes, and we ask the traders in the room to pick which markets we'll be looking at for each class.  Join in and we may use your choice for our discussion! 
You can imagine it would be handy to know what the A.I. forecast is for YOUR favorite market!
Until we see you in our online training room, I encourage you to visit our website and learn more about our groundbreaking technology – https://www.vantagepointsoftware.com   See why other people say we're the Best A.I. Stock Forecasting Software in the world.
Find Out More:
Empowering traders for over 40 years, the Vantagepoint AI team is passionate about helping people find financial freedom using data-driven predictive forecasts created by artificial intelligence and patented Global Intermarket Analysis.
If you're interested in learning more about VantagePoint, attend one of our online, interactive, complimentary classes; you can sign up here. I'm looking forward to welcoming you into the Vantagepoint family soon!