Strong, privately-held businesses are the backbone of our nation's economy, we're proud to be recognized again for our growth even amid a pandemic.
Vantagepoint A.I. has been on Inc. Magazine's national list of the top 5000 privately-held, fastest-growing businesses in the country for a few years.  It's really exciting to have the extra kudos of being one of the top businesses in the Southeast region of the United States from that list of 5,000.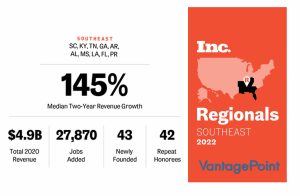 We are the only business on the list from Wesley Chapel, Florida (our headquarters) and even though the Tampa Bay region is one of the fastest-growing cities for business in the U.S., only 18 businesses in the region qualified for the list.  In fact, the entire Southeast region only saw 173 businesses meet the qualifying requirements.
Being on the Inc. 5000 list and Inc. Regional list is important to us.  We are committed to manageable growth for Vantagepoint AI so that our traders are always cared for to the best of our abilities. 
These lists also tell you something about us too.  We are contributing to the health of our local, state, and national economy; we are a stable company guided by our own principles, and we are recognized for our business acumen.
We know there are a lot of vendors in the FinTech space, and we've seen some pretty audacious claims from them.  Sadly, my team and I also hear a lot of heartbreaking stories from traders about those companies too.  We work hard to ensure that our traders are respected, honored, and have our best effort to help them trade smarter with our patented tools.
The road ahead looks pretty daunting for traders who don't have the right tools – let's make sure you're ready and safe for whatever happens in the markets!  Mitigate your risk but still find opportunities to trade with our patented technical analysis and predictive A.I. forecasts.
There's a reason we're nationally recognized – come find out why.
Find Out More:
Empowering traders for over 40 years, the Vantagepoint AI team is passionate about helping people find financial freedom using data-driven predictive forecasts created by artificial intelligence and patented Global Intermarket Analysis.
If you're interested in learning more about VantagePoint, attend one of our online, interactive, complimentary classes; you can sign up here. I'm looking forward to welcoming you into the Vantagepoint family soon!