I want to draw your attention to our latest accolade – one that is driven by our team.  We have been named one of the Top 10 small businesses in the Tampa Bay Times' Top Places to Work.
This year over 36,000 employees in the Tampa Bay Region were surveyed and just 101 workplaces were recognized as being a Top Place to Work.  This is the 5th year in a row that we have been named to the list and in some ways, this is one of the most meaningful awards we receive.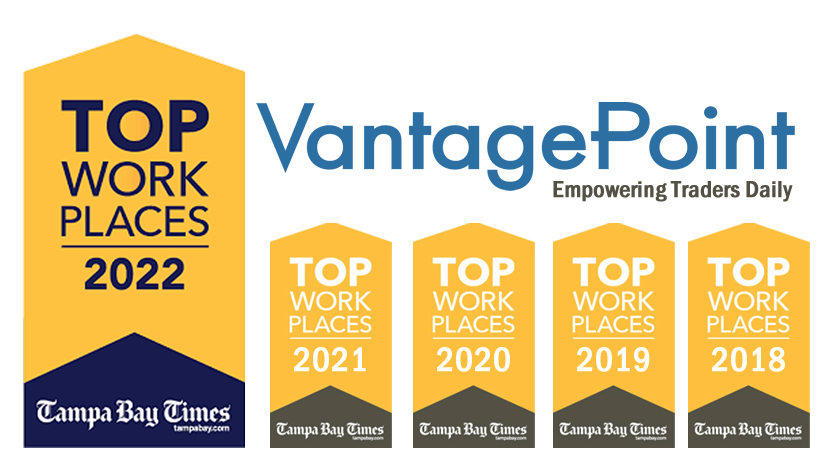 The Times is reporting that based on their survey, the general mood in Tampa is one of increased positivity.  We're glad to see that others are following our lead!  One of the qualities we look for in our all-star team is a positive attitude.  I love that my team is always looking for a way to make things better for traders, to find creative ways to create an even better Vantagepoint AI experience FOR YOU.
Another thing about this award that makes it mean a bit more to us is how competitive the Tampa market is becoming.  Tampa is now one of the fastest-growing regions for business in the entire U.S. and that means a lot of competition for top-notch team members.  It's easy to understand why companies want to move their headquarters to our area – great weather, good people, and vibrant culture that helps create a meaningful balance of work and life.
Our growth and our culture help to make us one of the top small businesses in our area.  We believe in taking good care of our team and we know that in turn means they are taking GREAT care of our traders.
Find Out More:
Empowering traders for over 40 years, the Vantagepoint AI team is passionate about helping people find financial freedom using data-driven predictive forecasts created by artificial intelligence and patented Global Intermarket Analysis.
If you're interested in learning more about VantagePoint, attend one of our online, interactive, complimentary classes; you can sign up here. I'm looking forward to welcoming you into the Vantagepoint family soon!