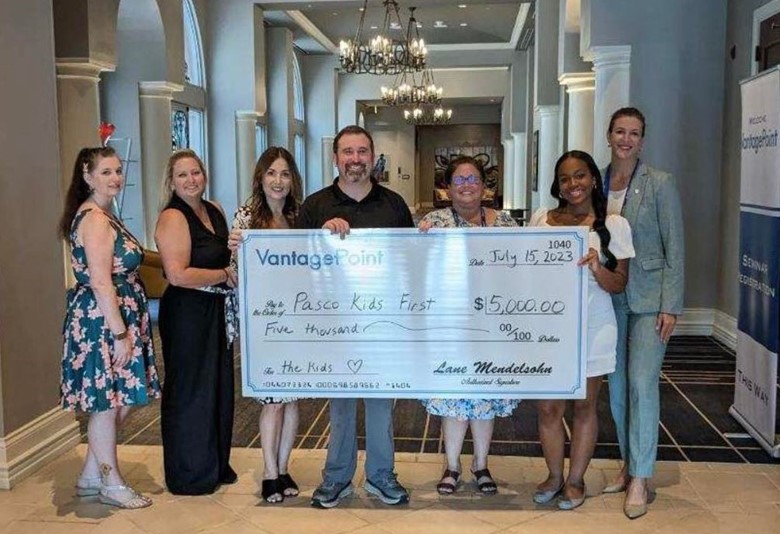 During a three-day educational retreat for our existing customers, the VantagePoint University Trader Summit, expert traders shared their techniques and strategies with attendees and then highlighted some of the best trades they've found using VantagePoint's dual-patented proprietary A.I. indicators.
Also at this event, we proudly announced their contribution to Pasco Kids First, a fully accredited non-profit Children's Advocacy Center that has been dedicated to safeguarding children and strengthening families for over 30 years. The organization's unwavering commitment to creating a safe, neutral, and child-friendly environment for children who have experienced abuse, neglect, or witnessed violent crimes aligns perfectly with our values of supporting meaningful causes that positively impact the community.
As a parent of two children, our VantagePoint team is honored to have the privilege of giving back to such an exceptional organization like Pasco Kids First. The work they do in protecting vulnerable children and families is truly remarkable, and we are grateful to support their invaluable efforts.
Pasco Kids First is renowned for its comprehensive approach to child welfare, offering education, prevention, and intervention programs to prevent child abuse, as well as therapeutic services to help children heal from trauma. The organization's mission deeply resonates with ours at Vantagepoint A.I..
Earlier this year in May, our team stepped up to contribute essential supplies and goods for Pasco Kids First, and it was truly remarkable to see how our team, as well as the participants of our Trader Summit worked together to take the positive impact to the next level! We'll be making another significant contribution to a charitable partner this November at our next Trader Summit.