In 1979, the words "Artificial Intelligence" were rarely used, let alone utilized in everyday life. But my dad had a vision of what AI and computing power could be, and how that power could benefit traders all around the world.
Fast forward to 2019 as we celebrate 40 years in business. The computers might be more powerful and the size so much smaller, but our mission from day one remains the same; Empower Traders Daily using Vantagepoint.
Because of our impressive data insights, powerful machine learning using AI, and $10 million spent in Research & Development over 4 decades, I'm proud to say that we've been selected as the featured cover story on the Top 10 Companies Beyond Business Transformation list.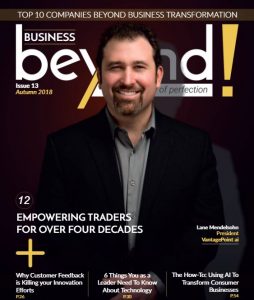 The Top 10 Companies Beyond Business Transformation list, highlights companies who are transforming the business landscape and going above and beyond. The entire Vantagepoint team is so excited about our latest accomplishment.