According to the Wall Street Journal, about 8.5% of small businesses close every year; and, while the pandemic certainly added to that number, it was not as high according to Federal Reserve economists had thought it would be. Thank goodness!
Privately-held small businesses are the engines of our local economies.  I'm proud to say we have been a stable force here in the Tampa Bay area for over 42 years.  I'm also proud to say that Vantagepoint A.I. has been recognized as one of America's FASTEST-Growing, Private Companies in the entire United States as part of the Inc. 5000 List again!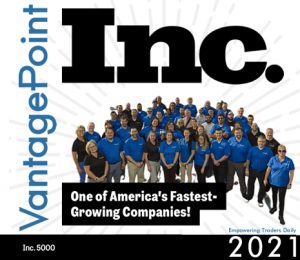 Even in the throes of a pandemic, we were able to grow our product and our business, welcoming almost twice as many new traders to our Vantagepoint family as we had last year.  This is our second year in a row on Inc. magazine's annual list of the fastest-growing private companies across the nation. Our small, family-owned company made the 2021 list with a 151% growth based on percentage revenue growth when comparing the past three years of growth.
I have to say, being on the Inc. 5000 list this year really is a signpost for Vantagepoint. Our top priority was to ensure the safety of our team and also make sure that our internal changes went unnoticed by our traders as we navigated a new normal amid a public health crisis.  I am so impressed that my team was able to create so much growth for our company!
In the process, we have also grown our team to meet the needs of so many new traders joining our family.  I anticipate that 2022 will find us continuing this pace of growth and expanding our services for our traders. 
We are on a path of innovation that provides meaningful, useful benefits for our family of traders that help make their lives easier. By my measure, that can only mean continued success!
Find Out More:
Empowering traders for over 40 years, the Vantagepoint AI team is passionate about helping people find financial freedom using data-driven predictive forecasts created by artificial intelligence and patented Global Intermarket Analysis.
If you're interested in learning more about VantagePoint, attend one of our online, interactive, complimentary classes; you can sign up here. I'm looking forward to welcoming you into the Vantagepoint family soon!