Vantagepoint AI has been recognized again by Fortune® Magazine as a top Small Business.  Out of 100 small businesses, Vantagepoint AI was ranked number eight in the entire U.S.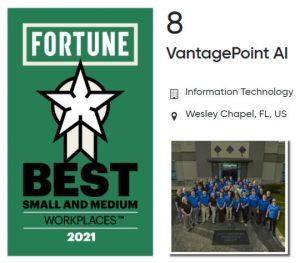 This award is especially meaningful to me because it is directly impacted by how our team feels about being part of our Vantagepoint family.  As the President of Vantagepoint, I am deeply aware of my responsibility to care for our team and our business.
We offer our team full medical, dental, and vision coverage and maintains a workplace culture centered around our core values of teamwork, communication, purpose, innovation, respect, integrity, and passion to guide every decision and action at all levels of the company. 
We are also dedicated to giving back to the local community through regular corporate giving as well as team member donations to small, local (often overlooked) community charities. 
I love that we are a leader in the United States of how to be a workplace that changes lives for my team, our community, and our traders!
Here's a word cloud from Fortune magazine about why my team loves working here.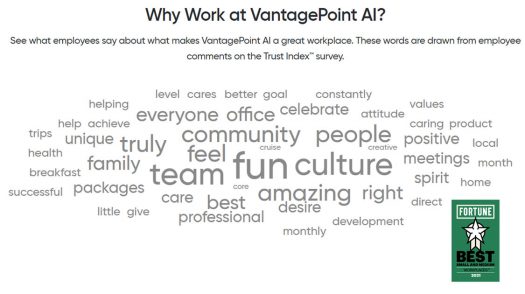 Find Out More:
Empowering traders for over 40 years, the Vantagepoint AI team is passionate about helping people find financial freedom using data-driven predictive forecasts created by artificial intelligence and patented Global Intermarket Analysis.
If you're interested in learning more about VantagePoint, attend one of our online, interactive, complimentary classes; you can sign up here. I'm looking forward to welcoming you into the Vantagepoint family soon!