Vantagepoint A.I. has been recognized for the fourth year in a row for its policies, practices, and workplace culture as one of the Top 100 companies and Top 25 Mid-sized businesses to work for statewide.
Since our company was founded over 40 years ago, Vantagepoint A.I. has been regularly recognized for its workplace culture focused on teamwork, innovation, communication, positivity, respect, integrity, passion, and purpose.  For this award, Florida Trend magazine surveyed our team and their answers help determine whether Vantagepoint is a great place to work – resoundingly they have said it is!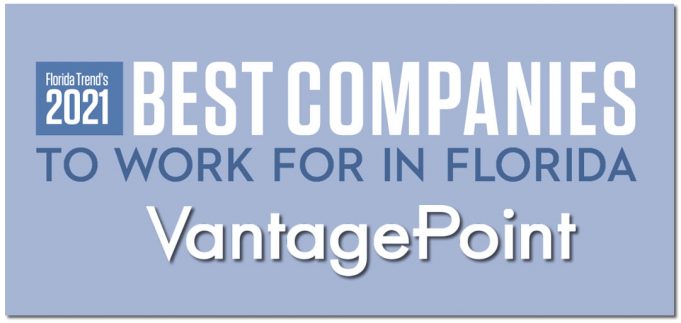 My team has risen to the occasion in these new and trying times over and over again – and I couldn't be prouder of them.
I know many of our traders have been grateful for the Vantagepoint Family connection we create and that our dedication to training and outreach has also helped traders feel less adrift. I'm proud of that too! It's what makes our company different — it's not just our software, it's our people and our culture too.
Find Out More:
Empowering traders for over 40 years, the Vantagepoint AI team is passionate about helping people find financial freedom using data-driven predictive forecasts created by artificial intelligence and patented Global Intermarket Analysis.
If you're interested in learning more about VantagePoint, attend one of our online, interactive, complimentary classes; you can sign up here. I'm looking forward to welcoming you into the Vantagepoint family soon!