On Wednesday, April 21st, we were part of an online awards celebration with the Tampa Bay Business Journal celebrating the Best Places to Work.  We were all thrilled when Vantagepoint AI was recognized as #4 in Large Workplace category.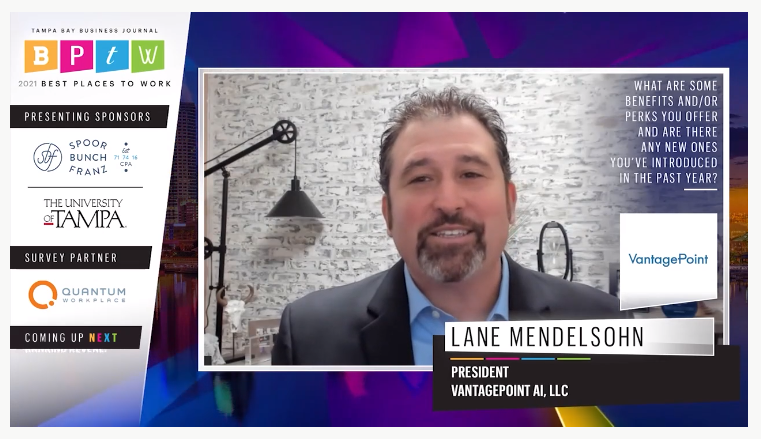 We've moved up the ranks over the years starting in a category for small companies with a handful of employees.  Our recognition this year alongside many national firms doing business in the Tampa Bay Area is a milestone for us.
And, I have to say, this year's win is also especially meaningful to me.  COVID-19's impact on our community and the challenge of maintaining our company culture while our team was deployed to working from home required some creativity, ingenuity and innovation.  That my team was able to flourish in the midst of unusual conditions speaks volumes about our Vantagepoint family bond and our exceptional leadership team.
This year's rankings, based on employee surveys, were especially close.  Tampa Bay is an up and coming, dynamic market in the country; the competition for all-star talent is fierce.  As a business owner, I'm honored to be recognized for our care of our team and our culture alongside some of the titans of business in our country.  I'm so proud of my team, their exuberance for changing lives, and their commitment to our traders.
It's such a unique time we are all walking through.  My team is working from their homes, the awards ceremony was virtual…and still, it means so much to us.
We all consider it an honor to serve our traders and be a resource for them to help create the life they want with our software.
Find Out More:
Empowering traders for over 40 years, the Vantagepoint AI team is passionate about helping people find financial freedom using data-driven predictive forecasts created by artificial intelligence and patented Global Intermarket Analysis.
If you're interested in learning more about VantagePoint, attend one of our online, interactive, complimentary classes; you can sign up here. I'm looking forward to welcoming you into the Vantagepoint family soon!